The Best Packing Tips: How to Pack Your Kitchen? 🍽️
The kitchen is the room where you're going to spend the most time packing. Check out the greatest time-saving hacks on How to Pack a Kitchen? Follow this systematic approach to keep your dishes and glasses safe during a move!
1. Gather Kitchen Packing Supplies. The right materials will make a big difference!
Knowing how to pack your kitchen will save you time, energy, and stress. To start, gather the right packing supplies.
What Supplies Should You Get to Pack a Kitchen?
2. Use Your Kitchen Table To Pack Your Boxes
One of the best places that you could start packing is your kitchen table! You'll need plenty of space to keep supplies handy.
3. Clearly Write What's Inside Each Box
It's easy to lose track of time whenever you're packing. There are a lot of things that you need to put together for your moving day. Just don't forget to write the content of each box that way you know what goes into what room.
4. Hold Dishes in Place by Packing Tight and Upright!
As soon as you finish wrapping up each dish make sure to put him vertically inside the box what this going to do is going to keep the box nice and tight and keep items from moving around. Also, if there are any spaces inside the box make sure to fill the spaces with more packing paper.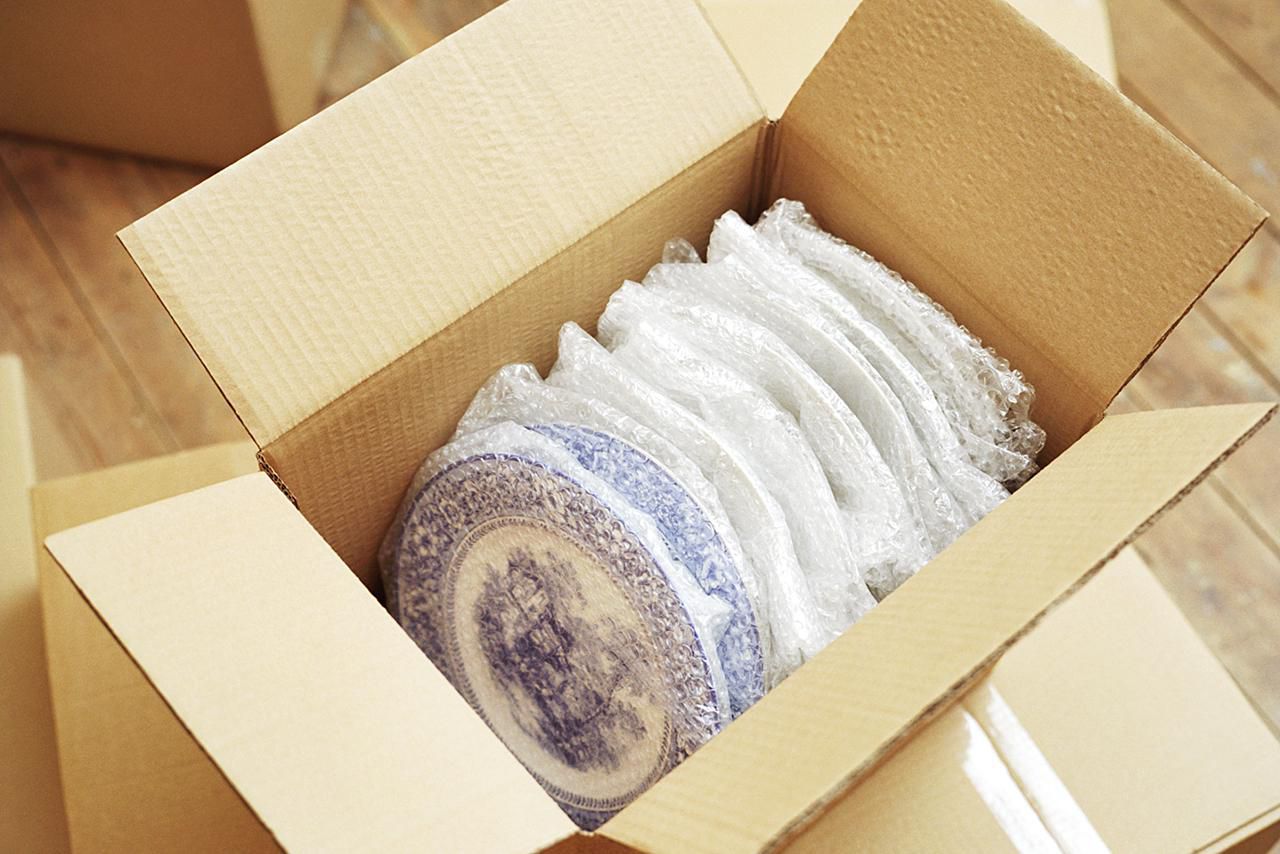 "Bring out the dishes you want to pack and organize them on a flat, open surface." – Home Depot
How to Pack Dishes for Moving?
Pack Plates Vertically (Like Records)
Add padding between each plate
Fill empty spaces with packing paper, rags, or crumbled newspaper
Write DISHES AND FRAGILES in Big Bold Letters
Use the space inside pots & pans to pack spices
Use rubber bands to keep the lids together
Use box dividers to pack cups & glasses
5. How to Prepare for Moving Day?
Stop buying groceries and eat perishable foods
Consider donating non-perishables such as canned foods to your local food bank
Defrost your fridge at least 24 hours prior to moving day.
When loading a moving truck, place fragile boxes closest to the ceiling.