Downsizing 101: Essential Tips and Tricks for Preparing for a Move
When it comes to downsizing and preparing for a move, it is important to sort through your belongings and decide what to keep, discard, sell, or donate. This can help you declutter your home and make the moving process easier and less costly.
You Can Categorize These Downsizing Tips Into Four Groups:
Sort – Things you want to keep
Discard – Things to toss out (broken items or missing pieces)
Sell – Things that can be sold to make money when you move
Donate – Things you don't want but could be given away
Cleaning For Your Move
Prepare A Bathroom Box: Your bathroom box should contain your essential bathroom items and toiletries.
Prepare A Cleaning Kit: Put together a kit of basic cleaning supplies and clean anything possible ahead of time.
Prepping Your New Home: After you move in, you will likely be exhausted from all the hard work. If you can, set up your new bathroom(s) with a shower curtain, bath towels, and other important toiletries before the movers arrive.
Quick Downsizing TIPS for Moving
Pack seasonal and decorative items before you start with the rest of the house. Most seasonal and decorative belongings are valuable and oftentimes fragile. Packing ahead of time will allow you to properly protect each item.
Use vacuum-sealing bags to preserve fabrics that will go into storage. This is great for winter wear (i.e. coats), guest blankets and pillows, Etc.
SORT: Declutter Your Home and Make Room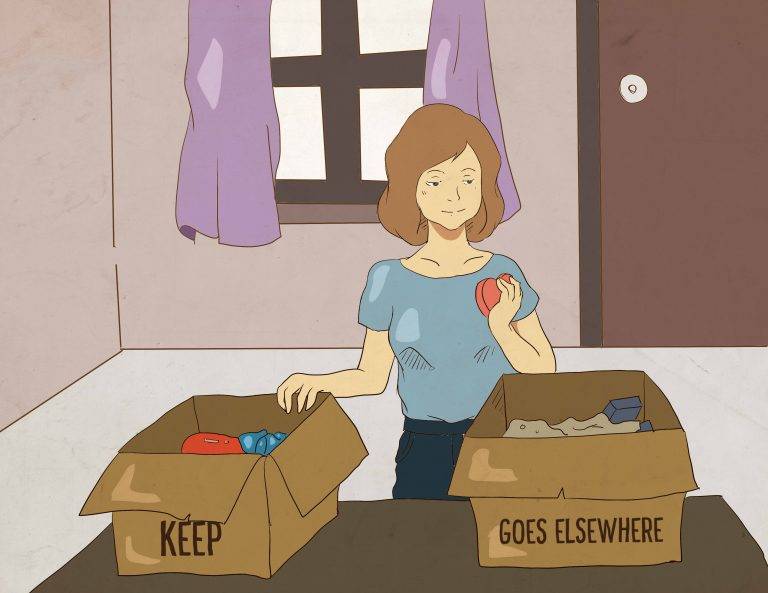 Start Room by Room: Go through each room and find the things you want to throw out, donate or sell. Many times we hold on to things that we no longer use but take up space. Start off by getting rid of things that don't hold sentimental value like a cake mixer or a rusted patio table.
Sort the items you use least frequently into boxes.
Kitchen: Waffle Iron, Napkin Rings, Garlic Press, and Other Kitchen Accessories
Living Room: Decorations, Unused Gaming Systems, DVDs, Etc.
Garage/Attic: Tools, Lawn Mower, Grill, Holiday Items, Seasonal Clothes, Etc.
DISCARD: Get Rid of The Junk You No Longer Need!
One of the things you will realize is the ungodly amount of junk that you have accumulated over time. Also, downsizing is a good reason to get rid of the things you don't need anymore. Go through each room to sort, discard, and donate unwanted items. 
Do a closet purge. If it doesn't fit, is out-of-style, or you haven't worn it in the past 12 months, get rid of it.
Get rid of items you wouldn't buy again.
SELL: Make Money While You Move
The less stuff you move, the less expensive your move will be. Here are a couple of ways to help pay for those costs. Sell your unused belongings, furniture, toys, and tools on eBay, Facebook Market Place, or through a garage sale.
Host a garage sale
You can sell unused kitchen items, furniture, toys, and tools online.
DONATE: Ways To Donate
Donate the things that can still be used but can't sell to local organizations.
Thank you so much for checking us out! Need Packing Supplies?
In summary, downsizing can be a challenging and overwhelming process, but it is an essential step in preparing for a move. By sorting through your belongings and deciding what to keep, discard, sell, or donate, you can declutter your home and make the moving process easier and less costly. Additionally, enlisting the help of friends or family members can make the downsizing process more manageable and enjoyable. These tips can help make your move smoother and less stressful.